The place God calls you to is where your deep gladness and the world's deep hunger meet.  — Frederick Buechner
Where do you go on vacation?
Maybe to the beach, the mountains, to see family – who knows. Whatever your dream vacation is, you most likely hope it is fun, restful, and relaxing.
But, for the volunteers of the St. Francis Medical Mission, vacation means something very different.
This past October, over 50 volunteers – doctors, nurses, dentists, translators, and helpers of all sorts – took a week of their hard-earned vacation time to provide much needed medical care to their brothers and sisters in need.
They didn't head to the beach – they spent their own money to travel down to Guatemala and work in the sweltering heat.
The St. Francis crew spent a week in Guatemala – four days of work in villages around the Rio Dulce and two days in a nearby area, El Estor.
They attended to hundreds of villagers each day, providing a full array of free services – doctor visits, dental work, eye tests and eyeglasses, chiropractic care, and an on-site pharmacy that provided medicines and vitamins.
Each day, the team woke up at dawn and ate a quick breakfast before heading out to the villages to work. After a quick set up upon arrival in the villages, they spent the day working in the tropical heat and humidity. In the late afternoon, they packed up their mobile clinic and headed back to base camp at a nearby village to blow off steam, rest and prepare for the next day.
Needless to say, the thousands of villagers that received their care were beyond grateful for the help.
The volunteers that used their vacation to serve rather than head to the beach were grateful as well. Grateful for a unique experience, for the chance to see a part of the world most never do, and grateful for the chance to bring a little hope and joy to people in need.
No trip to the beach can top that.
If you are interested in joining the St. Francis Medical Mission on one of their trips, visit their website at: www.stfrancismedicalmission.org.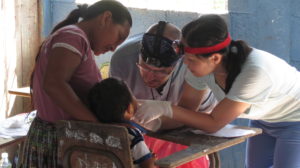 The work of the St. Francis Medical Mission, as well as our work is made possible in part by grants from the Diocese of Austin Ashes to Easter Fund. Thanks to the Diocese Mission Council and all the donors to Ashes to Easter for making missions like this possible!