Working to find sources of income:
Hope for the Rio Dulce works with local villagers to help develop sources of income, so that villagers will develop the tools to propel themselves out of poverty. One such project is the Q'ana Itz'am Mayan Cultural Center:
Above left: Mayan dancers prepare to dance for tourists; right: Mayan Cultural Center restaurant and sleeping quarters.
Ecotourism is one of the few available options for making money on the Rio Dulce.  Visitors arrive from around the globe to visit the sites of the Rio Dulce, but villagers do not have the knowledge or ability to tap into the tourist market.
The cultural center was developed to help provide income to a village of over 20 families. It has a small restaurant and rustic sleeping quarters. Visitors can enjoy the tropical setting and sites and was as cultural activities.
The center is run by a village non profit organization. Any profit made by the center is used to provide scholarships to students pursuing secondary education and other village profits.
Hope for the Rio Dulce helps to provide support and training to help make the center a viable business.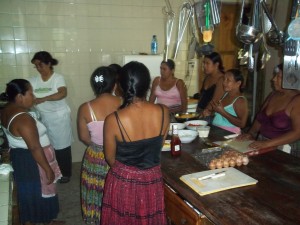 Above: Village women receive cooking class in order to better manage restaurant.