Help us "Build that School":
Currently under construction and scheduled to open in January of 2013, the "Esperanza del Rio Dulce" (Hope of the Rio Dulce) Junior High will serve the children of 11 Q'eqchi' villages.
The Need:
In Guatemala, school beyond the 6th grade is not free or readily available in many areas. This is especially true in more remote indigenous areas, where people often suffer from discrimination and corruption.
In the area where we work, if children want to study beyond elementary school, they must pay to attend private schools in other, often far away, towns. They must also pay for room and board. Many families simply cannot afford this. Those that can, often can only afford to send one or two children to school. So some children, many times the girls, are left behind. The children that go away to school then have to spend the entire year away from their families. Years away from the love, support, and guidance of their fathers, mothers, and brothers and sisters.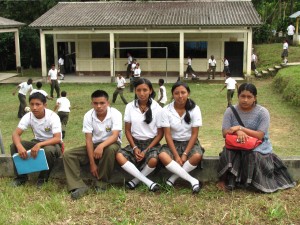 At left, a picture of some village students in school, in Livingston, Guatemala. It is too far from home to return everyday, so they must pay for room and board and be away from their families for weeks at a time.
The village children, their parents, and communities are hungry for education. They are willing to sacrifice and work to obtain the chance at a better life. But they can't do it alone.
The Guatemalan government will not open a school for these villages. They will allow the villagers to open their own school, but all funding must come from the villagers and other sources. The government will not provide support for a minimum of five years.
This is the sad, but real, state of education in rural Guatemalan communities. No one will help these village children in desperate need – except you.
The Solution:
-Build a Junior High School withing walking distance of villages in need.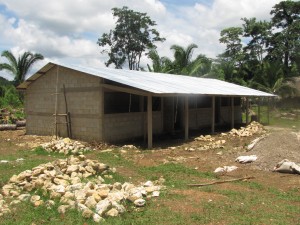 At left, the new junior high under construction in the village of Nuevo Nacimiento Calix.
This will be the first time in history that any of these villages will have a local junior high school – the first time in their lives that hundreds of students will have the opportunity to attend junior high near their own homes.
At capacity, the school will potentially house more than 150 students, studying the equivalent of 7th, 8th, and 9th grade.
"Start by doing what is necessary; then do what is possible; and suddenly you are doing the impossible" – St. Francis of Assisi
That is 150 students a year that will receive an education – many of whom would have never had the opportunity otherwise. Hundreds of children will grow, learn, and mature – so that they will be able to provide for themselves and their families in the future.
The school currently under construction will allow hundreds of students the chance to continue their education – a chance they have not had before. Many children will still have to walk 1-2 hours, each way – down muddy, jungle paths – just to reach the school. But they are willing and able to do it, if it means the opportunity to study and stay close to their families.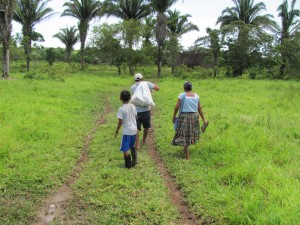 Listen to the villagers in their own words:
The following video is from Arnoldo Pacay, born and raised in the village of Nuevo Nacimiento Calix. Arnoldo recently completed his studies using a scholarship from Hope for the Rio Dulce and is now an elementary school teacher. He wanted to share his thoughts on the new junior high. Take a look-
Important Information:
Villages Served: 11
1. Nuevo Nacimiento Caliz, 2. Creek Caliz, 3. Lagunita Salvador, 4. Black Creek, 5. Setal, 6. Lo de   en Medio, 7. San Martin, 8. China Machacas, 9. Sarstun Creek, 10. San Juan, 11. El Rosario
These villages encompass an area with no local access to school beyond the primary level. Some will still have to walk 1-2 hours to reach the school.
Grades served: 3
7th, 8th, and 9th grade. School will begin with only 7th grade and add one grade per year.
Teachers needed: 6
2 per grade
Sources of Funding:  Hope for the Rio Dulce, TEACH www.teacham.org, local non profits, student families, villagers.
Villagers will pay for part of the cost of school through a small school fee and by volunteering for work such as construction and maintenance. Over time, the responsiblity for the funding of the school will be passed completely to the school committee.
Thank you, and God Bless you for your Support!