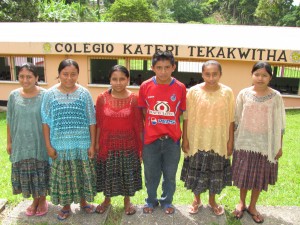 Hope for the Rio Dulce sponsors a scholarship fund that provides financial support for students wanting to study at junior high and high school. Junior High and High School are not free, in Guatemala. Schools are also located far from many remote villages. This means that a child who wants to further his or her studies must often go to school in a town far from their family and pay for school tuition, as well as room and board.
This makes the cost too high for many Q'eqchi' families. Our scholarship program pays a portion of a students tuition, based on financial need.
Pictured above: Scholarship recipients at Kateri, a Catholic school in Livingston, Guatemala.