Providing a hand-up, not a handout:
Hope for the Rio Dulce works alongside villagers to help them achieve the development that they desire. But we don't just develop short-term projects. We also work to help the villagers learn how to support themselves.
To this end, in 2012, Hope for the Rio Dulce assisted in the formation of a Guatemalan nonprofit organization that will be managed by local villagers. The organization is legally recognized in Guatemala and will give villagers a vehicle to search for funding and support from foundations and entities in their own country.
The board of directors is composed of village leaders as well as important local Guatemalans. Together they will work to find funding to promote local development projects.
The first project for this new organization will be the development and management of the Hope for the Rio Dulce Junior High.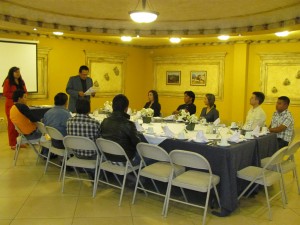 Above: Leaders meet in Guatemala City during formation of new village-led nonprofit organization.